Anthony Innovations are proud to have had our KWIKfit Soft Closer featured on leading Australian TV network, Channel 10's Australia By Design: Innovations series. Australia By Design is a program created to showcase and celebrate the very best of innovative products being designed and produced by Australian companies.
Each episode follows some of the most respected, prominent and influential experts in the field of design, architecture and science as they explore and showcase products from six Aussie companies each episode. The presenters and judges provide insight on the impact each innovation delivers to industry, community, culture, society and to each of us as individuals, and in doing so select the top-ten products to be featured in the final episode, with just one to be crowned the winner!
Award Winning
In addition to the showcase, the KWIKfit Soft Closer won a 2020 Good Design Australia award. Ben Anthony – third generation of his family to run Anthony Innovations – is proud of the work done by our team to win this award.
"In the last few years, we've made our screen door rollers higher quality, lower resistance, more durable, more affordable, easier to install and easier to adjust. But we wanted to keep pushing the envelope. When our guys came back with a soft closing option, it was a slam dunk. From the moment my grandfather first opened the factory 70 years ago, our company has worked to develop innovative products. It's a great joy for us to be able to continue his legacy, moving screen doors into a smooth, slam-free future." – Ben Anthony
Anthony Innovations KWIKfit Soft Closer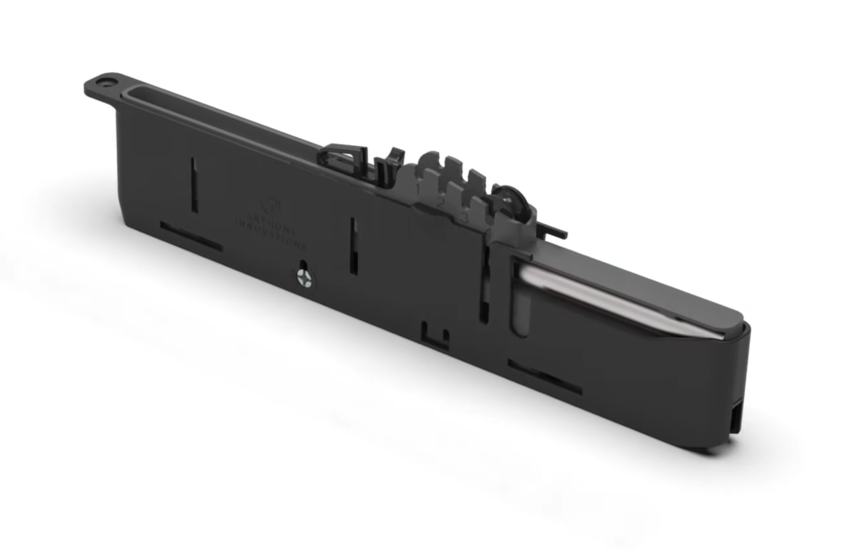 Featured on the first episode of season five, The KWIKfit Soft Closer from Anthony Innovations is a revolutionary product that allows a sliding screen door to latch approximately 80mm away from your door jamb, before slowly and softly bringing the door to a complete close.
This simple and affordable product fits most standard sliding screen doors with minimal installation time. In addition to being suitable for both left and right-handed configurations, the KWIKfit Soft Closer works with various standard head tracks. The Closer uses existing standard fabricator lock punch tooling to create the closing mechanism insertion point, ensuring the product can be fitted to most standard sliding security doors with minimal effort and expense.
Once fitted at the top of the door, the Closer sits unseen within the door extrusion. The fitted guide wheel acts the same as a standard top roller guide, meaning your security door will still function as intended, keeping any unwanted guests out.
Features & Benefits
1. Child Safety
Perhaps the most important feature of the KWIKfit Soft Closer is its ability to help protect your family from injury. If you have children you will know how easy it is for them to jam their fingers in a fast moving door, and the associated tears thereafter. The Soft Closer puts an end to the thought of this happening to your child. Instead of the door slamming, once it reaches 80mm from the door jamb, it will glide gently to a close, protecting those precious digits.
2. Reduced Noise
If you're familiar with the above, doubtlessly you will also be familiar with the regular SLAM of the screen door, as your child and their friends run through the house. This might be fine ten times, but ten times per day for ten years could well become very tiresome. Instead of the repetitive 'please don't slam the door' discussion, you could install the Soft Closer, essentially rendering your door 'un-slammable', and putting an end to the noise of the front screen door slam echoing through the house.
3. Extend the Life of Your Door, and Other Hardware
As well as preventing unwanted injury and noise, the KWIKfit Soft Closer can also help to extend the lifespan of your door, and other hardware. By eliminating slamming, the Soft Closer also eliminates regular shock impact from the door contacting the door jamb. Our in-house tests (which consisted of the door being tested 40,000 times) have shown that the lifespan of the door and door hardware is significantly increased, saving you money and effort replacing these components down the road.
4. Premium Feel
In addition to the above practical benefits, the Soft Closer is a great way to add a touch of premium feel to a simple sliding security door. It is common today to install soft closing drawers into a modern kitchen. It is undeniable that the sensation of a drawer gently bringing itself to a complete close is satisfying, so why not introduce this same premium feel into one of the most used pieces of hardware in your home, the humble screen door?
If you're installing a new sliding screen door, or even just considering upgrading your current door, installing the KWIKfit Soft Closer is a no-brainer. Given the benefits of keeping your family safe, and your home quiet, you also stand to save money in the long term by increasing the lifespan of your door and door hardware.
We're confident in the operation of our Soft Door Closer, and offer a seven year manufacturers warranty. For more product information including detailed specifications and installation guides, please visit the KWIKfit Soft Closer product page.